Summary
We're going to wrap up our live blog coverage for the day. Here's a summary of where things stand:
• The US timetable for launching potential military strikes on was pushed back after it became clear that a British parliamentary vote approving such action would not happen until next week at the earliest, British parliamentary sources told the Guardian.
• The US and UK plan to release a joint report on Thursday laying out evidence that the Assad regime was behind a chemical attack in east Damascus on 21 August that killed hundreds of people – possibly more than 1,000 people, according to the UN ambassador to Syria.
• President Barack Obama has so far avoided the struggle UK prime minister is encountering with his legislature by simply bypassing Congress. House speaker John Boehner sent Obama a letter Wednesday asking him to consult with Congress and posing 14 questions about the president's Syria policy.
• Damascus residents braced for possible strikes, stockpiling food and supplies and moving away from areas of perceived danger. The city was reportedly relatively quiet Wednesday evening.
• Anonymous US officials described to reporters plans for "limited" strikes on Syria that would last multiple days but likely no more than three and that would hit military installations but likely not chemical weapons stockpiles.
• The US state department said it saw 'no avenue forward' to 'meaningful action' by UN security council due to what it characterized as Russian intransigence. "The UN isn't the only international body that we're consulting here," a spokeswoman said. The five permanent members of the security council met to discuss an authorization of force but no vote was taken.
• At least 39 people were killed in violence in Syria Wednesday, the Local Coordination Committees reported.
• The Syrian ambassador to the UN warned that an attack on Syria could open a regional conflict, invoking the wars in Iraq and Libya. Iran issued a similar warning.
One view from a close observer of American politics:
House speaker John Boehner has sent President Obama a letter asking him 15 14 questions about his intentions and reasoning on Syria.
Here are questions 1-6:
What standard did the Administration use to determine that this scope of chemical weapons use warrants potential military action?
Does the Administration consider such a response to be precedent-setting, should further humanitarian atrocities occur?
What result is the Administration seeking from its response?
What is the intended effect of the potential military strikes?
If potential strikes do not have the intended effect, will further strikes be conducted?
Would the sole purpose of a potential strike be to send a warning to the Assad regime about the use of chemical weapons? Or would a potential strike be intended to help shift the security momentum away from the regime and toward the opposition?
Some homework for the president. Boehner also said Obama must explain the legal basis for any use of force in Syria and the "intended effect of the potential military strikes." Read the letter .
Updated
The BBC's Jeremy Bowen traveled to Damascus today.
Strike against Assad regime stalled by British political row
The best laid plans of Barack Obama in Syria ("nothing has been decided" the state department says) may be temporarily waylaid by British parliamentary infighting.
, and report that, according to Whitehall sources, the US had planned to launch strikes on Syria by the weekend but now has delayed the plan in order to allow prime minister David Cameron time to defuse a parliamentary revolt.
With as many as 70 Tory MPs threatening to rebel, announced just after 5pm that he would instruct his MPs to vote against the government motion if a separate Labour amendment – calling for any action to be delayed – was defeated.
As on this blog, the UK is now committed to waiting for the UN inspectors' report before taking a final vote on military action.
Cameron is reportedly unhappy:
Downing Street was furious with Miliband and accused him of having suffered a giant "wobble" after he had appeared to indicate on Tuesday night that he would be prepared to support military action, subject to legal approval. But Labour hit back and said that the prime minister had been resisting a second vote until Miliband tweeted his plan to table his own amendment.
More on Miliband's
It's unclear how the changing timeline in Britain will affect US military maneuvers:
UK sources indicated that the US, which had planned to launch the strikes by the weekend, is prepared to revive a back-up plan to delay the strikes until Tuesday when Barack Obama is due to set out for the G20 summit in Russia.
The US has said that the evidence of a chemical attack is "undeniable" and it would not wait for UN inspectors to reach a conclusion.
The new Guardian story that the US and UK will on Thursday publish a joint summary of the intelligence which they say points towards the Assad regime's responsibility for the poison gas attack of 21 August in Ghouta, eastern Damascus.
Members of US legislature have been calling on President Obama to seek congressional approval. Maybe as long as one of the two – Cameron and Obama – decides to talk to his legislature it's covered.
Updated
The Syrian Local Cordination Committees the number of people killed in violence today at 39, including at least 14 in Aleppo and 10 in Damascus and environs.
"In our base case, we assume an attack begins in the next week": that's what the oil market analysts at Societe Generale think will happen in Syria, according to a market report published by the bank Tuesday and quoted in newsletter:
We believe that in the coming days, Brent could gain another $5-10, surging to $120-$125, either in anticipation of the attack or in reaction to the headlines that an attack had started," the bank said in a report released yesterday. "In our base case, we assume an attack begins in the next week. If it takes longer, and there are no signals that an attack is imminent, the oil price uplift from the entire Syrian situation will start to fade. Our base case scenario does not include any actual supply disruptions resulting from the US-led attack on Syria.
The report notes that Syrian oil production is about 50,000 barrels a day, down from about 350,000 barrels a day a few years ago – in short, not much. is currently 9.8mn barrels a day.
(via @)
Iraq: apparently coordinated attacks kill at least 80
An apparently coordinated attack with car bombs, suicide bombers and other weapons in mainly Shiite districts around Baghdad has killed at least 80, the AP :
It was the latest set of large-scale sectarian attacks to hit Iraq, even as the government went on "high alert" in case a possible Western strike in neighboring Syria increases Iraq's turmoil.

Most of Wednesday's attacks happened in within minutes of each other as people headed to work or were out shopping early in the day. Insurgents unleashed explosives-laden cars, suicide bombers and other bombs that targeted parking lots, outdoor markets and restaurants in predominantly Shiite areas in and around Baghdad, officials said. A military convoy was hit south of the capital.
Read the
Updated
Civilians in Syria must be protected in the event of any escalation of the conflict, Human Rights Watch in a statement released Wednesday:
"if there is a military intervention, all warring parties must strictly adhere to the laws of war," which forbid deliberate attacks against civilians and the use of weapons such as cluster munitions or antipersonnel landmines, the group said.

"Military action carried out in the name of upholding a basic humanitarian norm -- you don't gas children in their sleep -- will be judged by its effect in protecting all Syrian civilians from further unlawful attacks, whether chemical or conventional," HRW executive director Kenneth Roth said in a statement.
Further .
Eliot Higgins aka Brown Moses (@) believes he has isolated of Assad forces loading and firing a munition of the type linked to alleged chemical attacks. Higgins calls the video, sent to him by @, a "smoking gun" – .
Updated
Reuters reports on the latest diplomatic activity: Arab League ministers will pass a resolution blaming Syrian President Bashar al-Assad for last week's chemical weapons attack in Damascus when they meet in Cairo next week, League officials said on Wednesday:
Syria's neighbours Iraq and Lebanon, along with Algeria, are likely to oppose or abstain from condemning Syria, as they have on similar resolutions in the past. Syria itself is suspended from the League.

"The Arab foreign ministers will affirm the full responsibility of the Syrian regime for the chemical weapons' attack that took place in Eastern Ghouta (on the outskirts of Damascus)," a representative of a Gulf state in the League told Reuters.

"We will also ask for those responsible for the attack to be taken to the International Criminal Court," he added.
Regional experts believe the US and allies could strike Syria without provoking an attack on Israel, Guardian Middle East editor Ian Black reports. The problem is that the US :
The signs are that [a Hezbollah attack on Israel] will not happen if, as an avalanche of briefings and leaks suggests, the US-led operation is carefully calibrated. "I believe that if the [western] strike is limited to one or two military targets in Syria, I doubt there will be any military reaction from Syria, Hezbollah, or Iran," Abdallah Bou Habib, Lebanon's former ambassador to the US, told Beirut's Daily Star.

For Assad and his regional allies, the key question remains the scope and duration of the operation. Flattening a brigade headquarters – for example, ones found responsible for mounting chemical weapons attacks – sends a different signal to destroying a divisional HQ, which has wider strategic significance. "The risk," warns Eyal Zisser, the leading Israeli expert on Syria, "is that what looks limited to the Americans may not look like that to Assad.
Read the .
Updated
British motion calls for time for UN to see inspectors' report
Britain says the UN security council "must" have the opportunity to review reports by weapons inspectors before military action is taken in Syria according to a copy of the motion to be placed before the UK parliament, Reuters reports.
"The United Nations Security Council must have the opportunity immediately to consider that briefing and that every effort should be made to secure a Security Council Resolution backing military action before any such action is taken," the motion, to be debated on Thursday, reads.
The US state department says it sees "no way forward" to "meaningful action" by the UN.
Updated
Harf groups the United Nations with the Arab League:
"The UN isn't the only international body that we're consulting here."
Harf is asked about al-Qaeda: Wouldn't a military intervention against Assad help al-Qaeda?
Harf insists there's no "decision" yet then answers that "we have to respond":
"The Assad regime has to be held accountable, and we have to respond."
Then Harf blames Assad for any regional threat his opponents may pose – an argument that boils down to "he started it":
the Syrian conflict started [by Assad] is what's reponsible for the increased al-Qaeda activity ... we place the blame squarely on the Assad regime.
That's not exactly strong reassurance that the US is focused on the threat to locals and the region posed by extremist fighters including foreign militants in Syria. On the other hand the Obama administration clearly recognizes the danger, as it has only slowly and hesitatingly funneled arms to the opposition, despite angry pressure from Senator McCain and others.
Updated
Shorter US: go home guys.
The reporters at the state department seem in disbelief that the US would act outside of a UN mandate.
Harf says it's "imperative" to act:
"We feel it is imperative for us in the international community to respond," Harf says. "Syria cannot hide behind Russian intransigence."
Q: Are US-Russian tensions at a new high?
A: "It hasn't been a secret that we've had a strong disagreement with Russia for months over Syria," Harf says.
Q: Why isn't the US sharing information with the supreme military council and rebel groups?
A: No decision has been made about what our next steps will be here.
Harf says US officials are in touch with FSA commander Idris and he has assured them that his forces would protect UN personnel in the country.
Harf says Assad is responsible for the chemical weapons attack, no matter who in the military (she takes it as granted it was the Syrian military) – launched it:
The commander in chief of any military is ultimately responsible, even if... he's not the one that pushes the button, or says Go on this.

I'm not intimately familiar with the command and control structure of the Syrian military. ... I just don't know the facts.

[Assad] is responsible for their use. He is responsible either way.
Harf describes the needle the United States is trying to thread on Syria, in potentially taking military action while saying there's no "military solution."
The question on the table for President Obama, Harf says, is "How best to respond to this one massive use of chemical weapons. There will be a response to that."
But she repeats:
Broadly speaking, we don't believe there's a military solution to this conflict in Syria.
US: 'no avenue forward... to any meaningful' UN action
State Department Deputy Spokesperson Marie Harf begins the daily briefing.
Question: does the Obama administration feel it needs UN authorization to take military action in Syria?
This is a pretty clear "No" from Harf:
"We see no avenue forward, given continued Russian opposition, to any meaningful council action on Syria.
Harf is critical of the Russians' conduct in today's meeting of the five permanent UN security council members:
"Today we've heard nothing different from the Russians in the meeting than we've heard for months and even years," Harf says.
Updated
C-Span is hosting of the daily state department briefing, which has not yet begun.
Russia objected to proposed UN resolution to authorize force in Syria in a closed-door meeting of the five permanent security council members, a Western diplomat told the Associated Press. No vote was taken:
After the ambassadors met for a couple of hours at U.N. headquarters, the draft resolution was being sent back to their governments for consultations, according to a Western diplomat, who spoke on condition of anonymity because the discussions were private.

The diplomat said Russia reiterated its objections to international intervention in the Syrian crisis.
U.S. Ambassador Samantha Power and British Ambassador Mark Lyall Grant left the meeting without commenting to reporters, the AP said.
Summary
The US state department is about to hold its daily briefing. The White House is not holding a briefing today. Here's a summary of where thing stand:
• The Syrian ambassador to the United Nations said any attack on the country would have regional repercussions, comparing the likely outcome to instability following the wars in Iraq and Libya. The ambassador, Bashar Jaafari, accused the opposition of carrying out chemical attacks, which he described as a "moral obscenity." He accused of benefiting from instability in Syria.
• The five permanent members of the UN security council discussed a British proposal to authorize force to protect civilians in Syria. The resolution was not expected to overcome objections from Russia.
• US officials continued anonymously to describe a US plan for potential military action. In response to a perceived imminent threat, Assad forces began evacuating military command centers in and around Damascus. Senator John McCain called the US leaks "crazy."
• Details of the apparent US case that the Assad regime was behind last week's chemical attack began to emerge. A US intelligence official told Foreign Policy magazine that agents had intercepted "panicked" telephone calls between the Syrian defense ministry and a field officer just after the 21 August chemical attack.
• Damascus residents braced for an expected assault, stockpiling food and supplies and moving away from military installations, Reuters reported.
• The Arab League decried the use of chemical weapons, which it blamed on the Assad regime, but stopped short of condoning retaliatory strikes.
Eliot Higgins, aka Brown Moses, the prolific documentarian of the Syrian conflict, has assembled a collection of videos uploaded to YouTube of the UN chemical weapons inspectors' outing earlier Wednesday:
Jaafari, the Syrian ambassador to the UN, also blamed the opposition for chemical attacks and said he had asked UN secretary general Ban Ki-moon
to mandate immediately the investigation team present now in Damascus to investigate three heinous incidents that took place in the countryside of Damascus on the 22nd, 24th and 25th where members of the Syrian army inhaled poisonous gas.
Ja'afari spoke just after the five permanent Security Council members finished meeting about the British proposal to authorize force in Syria. The envoys did not comment afterwards.
The Syrian ambassador to the UN told reporters outside the security council chamber that were the US-UK military action to go ahead, it would have grave consequences that would spread throughout the Middle East, the Guardian's Ed Pilkington reports from UN headquarters in New York:
"We should keep in mind what happened in Iraq and Libya", Dr Bashar Jaafari said, adding that the toppling of Muammar Gaddafi of Libya had "spread terrorists all over Africa".

Asked whether Syria or its allies would attack Israel in the wake of Western intervention, Jaafari replied: "We have the right to self-defense. It's up to the military council to decide how to respond to any aggression."

Sustaining the threatening tone, Jaafari said that "those who commit a crime against one of the founding members of the United Nations should accept the consequences of their actions."
Jaafari went on to adopt US secretary of state John Kerry's language in describing the chemical weapons attack:
"We are not war mongers, we are a peaceful nation seeking stability in the area. The Syrian government is against the use of chemical weapons by all means - this is a moral obscenity."
Then he blames Israel: "The only party that benefits from this instability is the Iraeli occupation of Palestinian territories."
Updated
Anonymous US officials continue to leak information about plans – the White House insists no decisions have been made – for military strikes on Syria.
Reuters has spoken with a "senior US official" who says the strikes will be multi-day and multi-lateral.
"The options are not limited to just one day," the official said. And: "We're talking to a number of different allies regarding participation."
Citing its own conversations with US officials, the New York Times "limited" strikes over "one or two days" intended to "deter and degrade" the Assad regime's chemical weapons program but not to depose Assad.
The Times reports the US is not likely to hit chemical weapons storage sites:
The attacks, which are expected to involve scores of Tomahawk cruise missiles launched from American destroyers in the eastern Mediterranean Sea, would not be focused on chemical weapons storage sites, which would risk an environmental and humanitarian catastrophe and could open up the sites to raids by militants, officials said.
The Times even has a number for the strike sites:
the initial target lists included fewer than 50 sites, including air bases where Syria's Russian-made attack helicopters are deployed.
On Monday the Guardian of possible targets in Damascus and of the locations of Syrian army divisions at the start of the conflict. Our accompanying story .
Elias Muhanna, a Brown University professor who blogs as Qifa Nabki, the US strategy of broadcasting its war plans, in an imagined briefing by White House spokesman Jay Carney. Here's part:
Jay Carney: I'm glad you asked, Jim. Obviously, it is not in the interests of the United States to share sensitive details about military operations. We reserve the right to strike anywhere in Syria so as to punish the regime for its reprehensible and brutal attacks on its own people.

Having said that, we're primarily considering two sets of Tomahawk missile strikes (between 8 and 11) launched by the USS Mahan and the USS Gravely against a set of military bases in the Syrian desert, including but not limited to… [ruffles some papers]… and let me see if I can get these names right: the Marj Ruhayyil Military Airbase, Al-Nayrab Military Airbase, the Suwayda Army Base, the Marj al-Sultan Military Heliport… Wait, no scratch that. My bad. The heliport is not under consideration. I mean, it may or may not be under consideration. Let's see, where were we? Oh, also the Shayrat Military Airbase and the Khalkh… you know what, I'm not even going to try to pronounce that one.

We've put together a list of the potential targets that you can pick up on your way out, along with geographical coordinates and correct spelling, and so on, just to facilitate things.
Read the
Updated
Why did Assad apparently carry out such a heinous attack at this particular time, when the US and its allies had shown indifference to smaller attacks and when UN chemical weapons inspectors had just arrived in-country?
Anne Barnard of the New York Times with CJ Chivers What was he thinking. One possible answer of course is that the attack was not approved at all levels or was the result of a mistake or miscalculation. Iran and Russia have implied that the attack might have been the work of the opposition – not the regime.
Emile Hokayem (@) of the International Institute for Strategic Studies tells the Times that we really don't know what Bashar Assad is thinking:
"What makes military and strategic sense to Assad may not make military and strategic sense to us," said Hokayem. "Assad is fighting his own fight on his terms and on the timing of his choosing. He may have made a mistake this time — perhaps he didn't mean to kill that many, or assumed the international community had become less sensitive — but it doesn't mean that it didn't make sense from his perspective."
Recommended is the discussion at the end of the piece reported by Chivers about what we know of the ordnance that was used:
Evidence from videos and witnesses suggested that the toxic substances in last week's attack were delivered by improvised tube-launched missiles that could be used by smaller, more mobile units than were thought to be needed for chemical weapons.
That detail has been taken as evidence both for and against an Assad role in the attack. Read the .
The UN envoy to Syria, Lakhdar Brahimi, has put the number of deaths in last week's attack at "maybe more than 1,000 people," the AP reports.
Brahimi, speaking in Geneva, said "some kind of substance was used that killed a lot of people." He then named figures offhand:
hundreds, definitely more than a hundred, some people say 300, some people say 600, maybe 1,000, maybe more than 1,000 people.
"This was of course unacceptable. This is outrageous," Brahimi said. But he said any military response must first gain security council approval.
A dispatch from Damascus as residents prepare for a possible bombardment, by a Reuters reporter whose name is withheld for security reasons. Damascenes are stockpiling supplies and moving away from potential targets, Reuters reports:
At grocery stores, shoppers loaded up on bread, dried goods and canned foods, fearing they may face shortages if a strike hits the city. The items most in demand were batteries and water.

Nearby, a nurse idled in a clinic - empty as nearly no one showed up for their appointments on Wednesday - and raised the question on the mind of so many locals.

"We live in the capital. Every turn, every street, every neighbourhood has some government target. Where do we hide?" [...]

Now those who did not leave worry they have no place to hide.

"I'm starting to see the fear in people's eyes," said one resident named Rula, speaking by phone. "People have been in the habit of stocking extra food since the conflict began, but now people are buying huge amounts of food and water."

Around Damascus, many banks were crowded with people, and dozens queued at cash machines.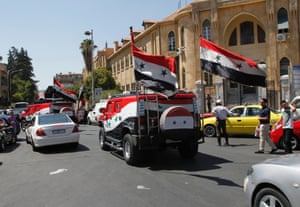 Amid the gloomy mood, some Assad loyalists tried to stir a sense of patriotism. Hummers drove around the neighbourhoods of central Damascus blaring nationalist songs. Young people painted cement road blocks with the Syrian flag.

On the capital's outskirts, residents living in districts such as Hameh, Jumraya and Qudsiya were especially nervous - they are the site of several military research facilities and weapons caches, in addition to military bases.
Read the .
Updated
The US and allied forces have vowed to anchor any military action against Syria in the bedrock of international law, but lacking the support of the UN security council, and seemingly unable to argue self-defense, how will the allies craft their case?
Guardian Washington correspondent Paul Lewis (@) put the question this morning to veteran public servants and law experts, who tell him that the US will likely cite a "strong legal and moral taboo against the use of chemical weapons":
Senior US officials have repeatedly said that President Assad's forces "flagrantly violated" international law governing the use of chemical weapons, indicating that may form the basis for a justification of any future attack. [...]

来自哥伦比亚大学法学院的Matthew C Waxman教授说,即使是我